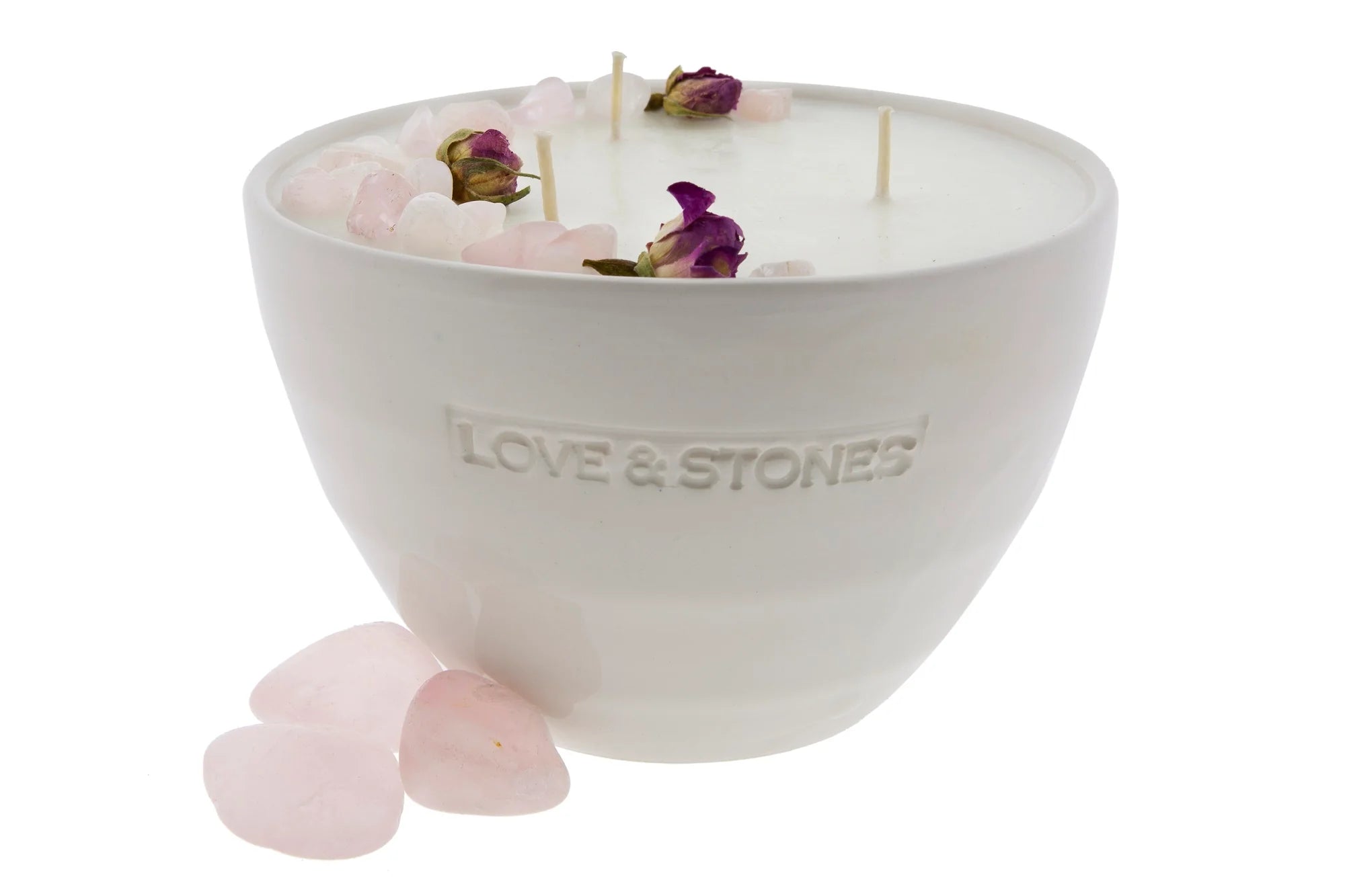 Love & Stones - Love - Roses & Rose Quartz Crystal Infused Scented Medium White Ceramic Candle
Rose quartz - The stone for love
With the blend of scent from lavender & geranium and roses
We believe in the power of crystals to love, believe in dreams and create happy abundant energy into your life.
For each candle I have created a scent of blends of organic essential oils to match with the healing properties of the crystals to create a journey for you go give, guide and get you to live your dream life. 
Our candles are all designed in Copenhagen and hand-poured in our own factory in Mallorca, with all-natural soy wax and infused with only organic essential oils. Each candle is paired with a corresponding crystal to amplify its energy.
Burn time 60 hours
800 ml
When you light your candle, you can leave your stones in the candle or take them out and have them close to the candle.

 If you wish to leave them in the candle, just make sure they do not get too close to the wick since that can extinguish the flame so move the stones a little to the side as the wax melts.
Do not let your candle burn for more than 3 hours at a time and always trim the wick to 0.5 cm and after burning your candle.
Please never leave your candle unattended
Your candle is a love story that will last for a long time. Just clean the glass or ceramic with hot water and use in your day to day
In all our design we always have a "re-use" in focus in our ceramics and glass, in order to create no waste. So, if you wish to part ways, please recycle.
 DISCLAIMERS
Some crystals may come loose during transit, this will not effect the quality of the burn.
Products may vary slightly from picture due to  the specific crystals and their shape and size.
---
Love & Stones - Love - Roses & Rose Quartz Crystal Infused Scented Medium White Ceramic Candle