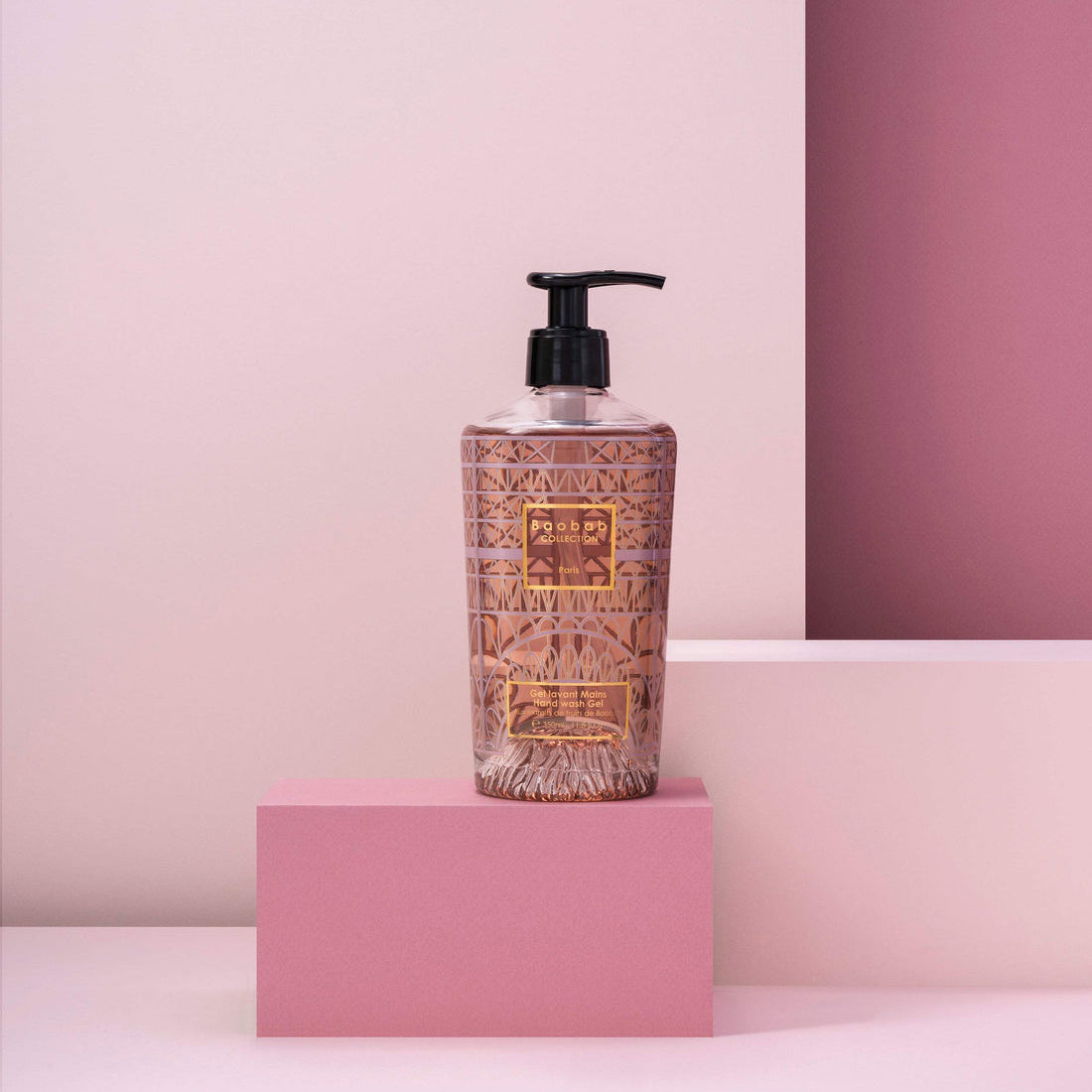 Baobab Collection - Body & Hand Lotion 350Ml – Paris
The Paris scented hand wash can be placed near a sink as a decorative object in a bathroom or guest toilet. The glass bottle, decorated with a 9 carat gold silk-screened print leaves the gel visible, a subtle pink color. Its purifying texture foams on the hands, moisturized and protected, as it leaves a floral and delicately perfumed veil.
The Paris hand wash's floral fragrance pays tribute to all that is delicate. Notes of Glycine, Mimosa and Linden accentuate the freshness of the formula while leaving a very pleasant trace on the skin. A purifying and moisturizing sensation. The story behind this fragrance involves the memory of Paris in April, of a walk in Auteuil. The chestnut trees are beginning to bloom and the wisteria from the gardens of private mansions are overflowing atop their gated entrances found on the street. The wind makes the flowers twirl with the promise of summer.
We recommend using it as many times as you like and lathering the gel well on your hands, in order to release the fragrance in a cleansing and comforting sensation. Rinse thoroughly with clean water. The cleansing sensation is immediate, with a perfume that lasts for about 10 minutes.
Ethically sourced in Burkina Faso, the active ingredients found in Baobab fruit are 6 times more concentrated than in any other fruit. These active ingredients come from the pulp of the fruit, which is rich in Vitamin C. They have antioxidant properties that help fight against free radicals, responsible for aging. The active ingredients of Baobab fruits are associated with squalane, an olive derivative. This superfatting agent acts by biomimicry to reinforce the hydrolipidic film on the skin's surface in order to preserve its natural hydration. Mild surfactants provide foaming and cleansing efficiency and are also recognized for their good biodegradability. The formula was developed in a French laboratory in compliance with current industry standards and the environment without harmful ingredients.
---
Baobab Collection - Body & Hand Lotion 350Ml – Paris