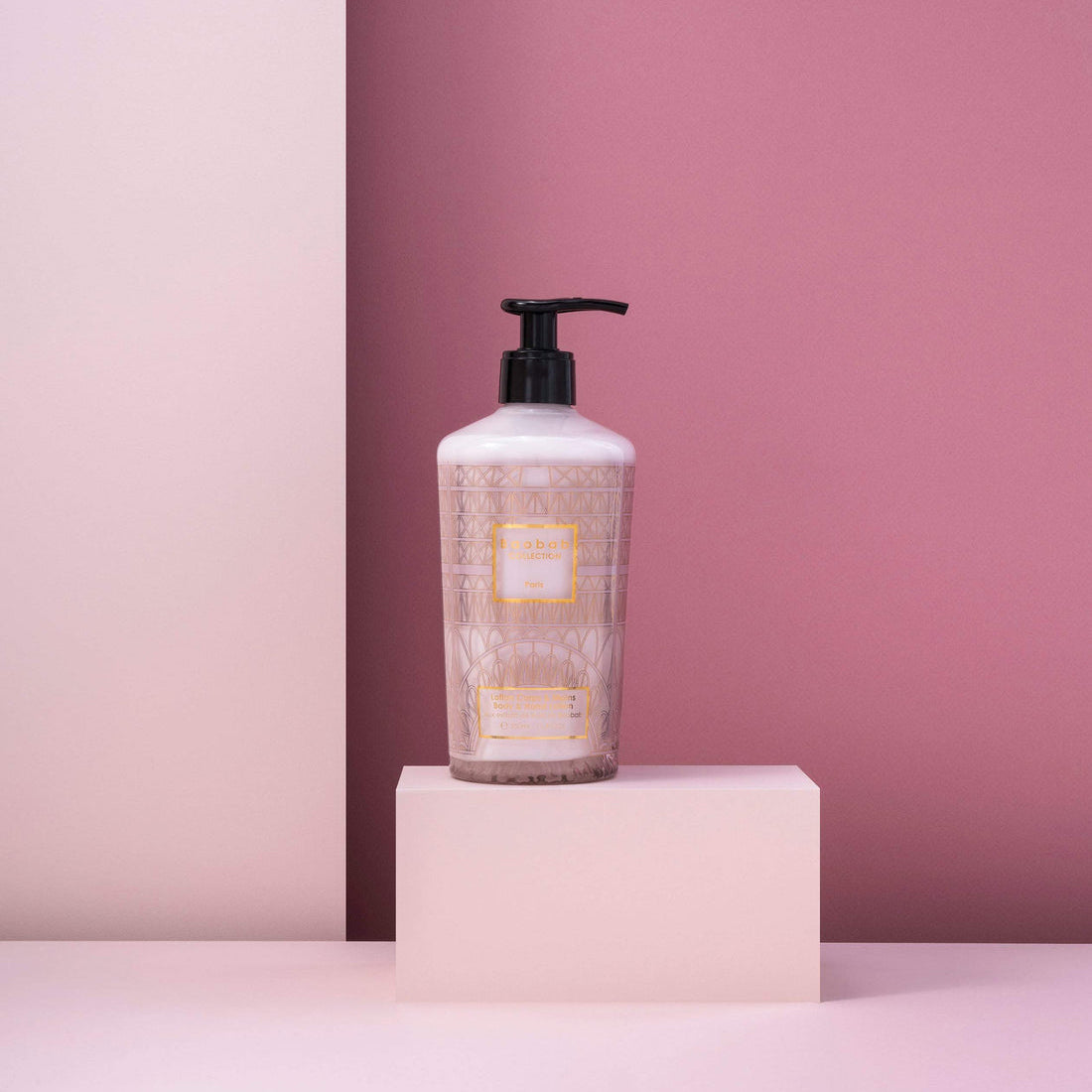 Baobab Collection - Body & Hand Lotions 350Ml – Paris
Decorated with a gold silk-screened print inspired by the stylized design of the Eiffel Tower, the Paris scented hand and body lotion can be placed in a bathroom as a decorative object. The transparent glass allows a pale pink lotion to show through, accentuating the decor. The texture, soft and lightly colored, moisturizes the skin without being sticky.
The Paris Hand and Body Lotion's floral scent is as delicate as the texture of the scented lotion. Notes of Glycine, Mimosa and Linden accentuate the sensation of softness while leaving a very pleasant trace on the skin in a comforting and moisturizing effect. The story behind this fragrance involves the memory of Paris in April, of a walk in Auteuil. The chestnut trees are beginning to bloom and the wisteria from the gardens of private mansions are overflowing atop their gated entrances found on the street. The wind makes the flowers twirl with the promise of summer.
We recommend using it as often as necessary, preferably in the morning after showering, and gently massaging all parts of your body to allow the lotion to penetrate. It is light and not greasy, its absorption is immediate. As you massage, the fragrance spreads over your body like a comforting and enveloping veil. A moment of extreme softness to be repeated daily.
The Paris hand and body lotion is composed of two major ingredients sourced from an ethical network in Africa. First, Baobab oil extracted from the seeds of the Baobab fruit. This oil protects, moisturizes and softens the skin. The active ingredient of Baobab fruit, 6 times more concentrated than in other fruit ingredients, is then added to the formula. This active ingredient comes from the pulp of the fruit, and is rich in Vitamin C. It has antioxidant properties that help fight against free radicals, responsible for aging. It also helps to purify and moisturize with a "velvety" effect that leaves the skin smooth, soothed and repaired. The formula was developed in a French laboratory in compliance with current industry standards and the environment without harmful ingredients.
---
Baobab Collection - Body & Hand Lotions 350Ml – Paris